My love for the more extreme ends of the metal genre can be traced backed to being a young teenager and discovering a band known as
Dying Fetus;
they were much heavier than anything I had ever heard and it was a love at first listen. Since then Dying Fetus have always had a special place for me, and have always impressed me with their music. I find that generally people are divided by Dying Fetus, they play a strong brutal sound, but then go technical and people feel that this has negated the harshness of what they had just player, while other listeners having a general abhorrence for any form of technical playing. Luckily for me, I quite like the manner that Dying Fetus juxtapose the technical moments with those of pure audio terror, and I think they are one of few bands who have successfully manage to pull it off.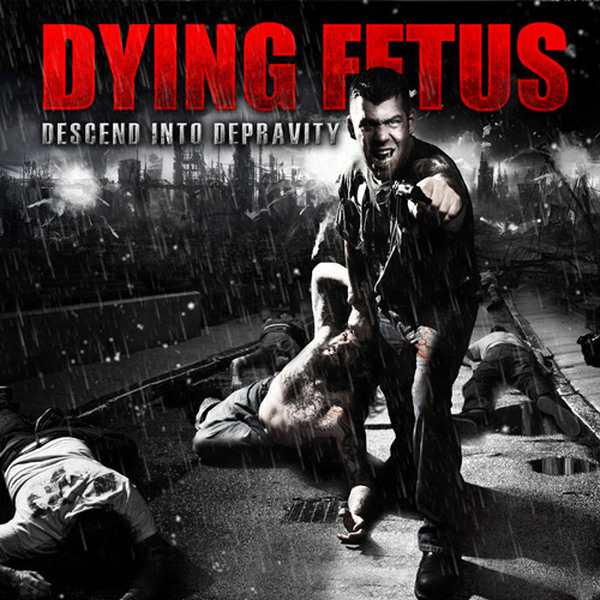 Stop at Nothing, Grotesque Impalment
and most importantly
Destroy the Opposition
established Dying Fetus as a top rate band who are more than capable of putting out good music. Sadly
War of Attrition
was generally terrible, although I did enjoy it was felt not just by myself but the metal community it was nothing to its predecessors. In a bold move by
Relapse Records, they decided to put their faith once again into Dying Fetus, and put the upcoming release Descend Into Depravity
as their poster boy for the record label for the latter of 2009, a number of music videos were recorded and plenty of money was spent advertising it. So the big question must be asked did it pay off?
Descend Into Depravity
certainly was a come back to form by force to the
Destroy the Opposition
era, much like after the fall of Rome a period of decline existed only to be swept away by the
Renaissance,
well this certainly may be seen as Dying Fetus' rebirth. Dying Fetus have gone back to the glory days of
Destroy the Opposition
but with a twist, they have decided to follow a more traditional metal formula of solos, conventional structure,sweeps and melodic overturns. There is one time when I did question whether this new formula had altered the integrity of a death metal sound, and had created some generic metal sound with heavy elements creating a very undesirable effect,named:
Hopeless Insurrection
this song is the third on the album and ironically "hopelessly insurrected" from the solid amazing impression from the first two songs. Luckily this song is the only bad apple in the barrel and the rest of the barrel are certainly up to scratch and well beyond the quality of your average song.
We certainly see that Dying Fetus have been rehearsing religiously, the tightness, precision and speed of what they play puts the form of most titans of death metal world to shame. As aforementioned Dying Fetus have looked back at the roots of not only their own music, but of the genre, and have also looked to the peers for guidance there exists a faint but strong presence of
Decrepit Birth
. A constant and well established orthodoxy in Dying Fetus is the vocals of John Gallagher (alongside him being an original member), I cant think of any vocalist who sounds more raw and brutal and this is a strength that Dying Fetus have used on every release and
Descend into Depravity
is no exception. The bass and drums have been moved as much into the foreground as the guitars, breaking away from guitar-centric
War of Attrition
and into a more coordinated assault. The three work together in synch and compliment each other so well, it begs the question can guitarists, drummers and bassists work together without bickering (those of you in bands know what I am talking about), I shall reserve judgement for now.
Considering Fetus once had one of the worlds greatest drummers,
Kevin Talley
they have done an excellent job of gaining a replacement who comes near to the break neck speed, ingenuity and flexibility of one of his many predecessors. I never thought I would see the day that I said that the bass is as active,varied and free as the guitar, luckily
Sean Beasly
uses this new found freedom to compliment and accompany
Gallagher's
fine guitar
Your Treachery will die with you
and
Ethos of Coercion
are certainly the best tracks on the album and highlight best everything that this release implements, and would recommend to even the most avid Dying Fetus hater. At times there is a feeling of mediocrity and sluggishness, but such instances are short lived and destroyed by the vocals of Gallagher heralding the oncoming of a tri-unionised instrument genocide.
Before I end this review, I most reiterate with heavy emphasis how tight the playing is, I am yet to hear a band that can top it.
This release has all the hallmarks and makings of what could of been the best release of their career, sadly there are just those little elements that don't give it that completeness we desire
.
To me it seems that the experimentation was a good idea, but they need to refine those ideas a bit more. Overall this release is by far much better than most releases out there, and is an amazing album that I think everyone I know should own a copy of. Additionally I would go far to say as the 2nd best release they have put out, so hopefully with a bit more practice and comfort with these "new" elements, Dying Fetus will have in their grasp a strong chance of toppling the legacy of their predecessor and create one of the best albums in all of Deathmetaldom.
And Just for a bit of Nostalgia