If you would have asked me a few weeks ago, I would have told you that 2010 was like a red-headed step child that everyone would soon forget about. Music was essentially boring in every other genre that held its own outside of the extreme music category, but for being so underestimated, the year made a surprisingly abrupt comeback. You see I'm not one to really keep up with modern releases too much, so when something does come my way and its really awesome, I usually produce tears of joy and attend a church service for that week. The year did have some awesome albums of course, however, nothing could even compare to my top album of the year. Let's begin.
10.
Kasatka
- Scene Slaughter
Call it an EP, call it a mini CD, I could care less. Bottom line is that Kasatka rules and this is some refreshing Grindcore straight outta Belgium! The material is pissed off fast and psychotic Grindcore that isn't about to allow Hipster doofuses plague the scene. Ending in just under five minutes, you have no excuse to avoid this compound of miniature mayhem.
9.
Powercup
- Renovate At All Cost
Who thought Grindcore and Mighty Putty would be such a strong combination? Powercup are an awesome Canadian Grind/Powerviolence band that take the ethic of DIY work to a whole 'nother level. Solid drum work, defiant vocals and the riffs keep coming and coming. I'm going to burn this album on CD, take it to every Lowe's and Home Depot and demand that they play it over the speakers daily. They'll be thanking me soon enough when sales rise and the profits come in, oh how I love my
capitalist
mindset.
8.
Unholy Grave
- Grind Killers
Unholy Grave aren't strangers to the Grind World and I most certainly get tired of hearing these guys' name being thrown around so often along with the infamous
Agathocles.
However, I rather enjoyed this album which was quite a surprise to even myself. Some will say its your run of the mill UG album, but for me it has this weird energy that I can't describe and it deserves to be on my list due to the sheer amount of plays its had this year. Definitely worth a listen and I'm pretty sure most grind fans will enjoy this record, thats as good of a word as you'll get from me for a band that releases millions of albums just for the sake of it. Don't get mad UG, you deserved the number 8 spot.
7.
Misanthropic Noise
/
Csihas Beno
I've been a huge fan of Misanthropic Noise for quite some time now and this is definitely one of the best splits I've heard in a while. The raw sound that plays on their end is just amazing and is how Grindcore should be played. Noisey, Mincey, (Hate using that term), and downright filthy, I loved every second of these rascals' material. Csihas Beno is a powerviolence band that is a little less known but just as awesome. I'm not a huge powerviolence guru but CB are pretty refreshing. MN outshine in my opinion but regardless this is a great album. I posted Csihas' art because Misanthropic Noise decided to make theirs extremely hard to find.
6.
Salome
- Terminal
Female fronted Doom Metal band Salome dish out this swell, stomach churning masterpiece that redefines heavy. A few things have switched up but of course Kat is letting out her devastating yells and shrieks over the slow and thumping, yet hard hitting drums that set the pace for this record. Sludgy southern guitar laced with Doom provides a nice contrast to the painful howls let out from the blond haired front woman. The production is much better then some of their earlier work and the tracks are nice and hefty as they should be. I refuse to listen to this while driving however, in fear of rupturing streets and killing elderly people with such devastating grooves. You could push your way through a brick wall listening to this.
5.
Lycanthrophy
/
FUBAR
Another female fronted band, Lycanthrophy tear the Czech scene up and hold the title proudly as my favorite Czech band. They do a fine job representing the homeland by unleashing blisteringly fast blasts and sudden abrupt changes in tempo. Grindcore and Powerviolence is finally perfected and combined perfectly, anyone who thinks Magrudergrind have that down need to listen to this split and think otherwise. FUBAR do a nice job of keeping up with Lycanthrophy and even have their own moments of shining through in their side of the split. I enjoyed the vocal duo and thought the pair sounded quite unique. A bit lower quality on the production scale but still pretty awesome. Best split of 2010 by far.
4.
Totälickers
- El Poder Absoluto Aniquila La Vida
Nothing warms my heart more then to hear loud crusty anarchopunk with Spanish vocals. I may be a little biased since Spanish was my first language, but to me any crust or form of punk is always better to me if it is played by a spanish or latin american band. Totalickers hail from Spain and these guys and I have a history together, which may be why this album is so high on my list. The vocals are perfect, not annoying and stupid like a lot of punk and the guitars sound exactly how they should. Drums have a nice sound as well, with the snare, toms, and every cymbal delivering each piece to transcend the beauty of protest into musical form. This is the real deal, if you want to get into anarchopunk and crust then this is your band and album so get to listening.
3.
Suffering Mind
- Suffering Mind
Normally I'd hate to double post but this is just such an astounding record that it deserves to be on my top 10 as well. From the moment it kicks off you get an instant blast and feel of the record and you have no choice but to listen as you are floored by the immense grinding insanity that this band provides. The female vocals are awesome, definitely my favorite part but the drums have a real grindcore touch to them that I just loved. Guitar has an awesome sound and instructs the band through each sinister and diabolic move. After the outro is played, feedback descends and tricks you into believing the album is over, only to sweep you up and annihilate you with a surprise Phobia cover. This album couldn't get any better if it tried, definitely going down in the history books.
2.
Bloody Phoenix
- Death to Everyone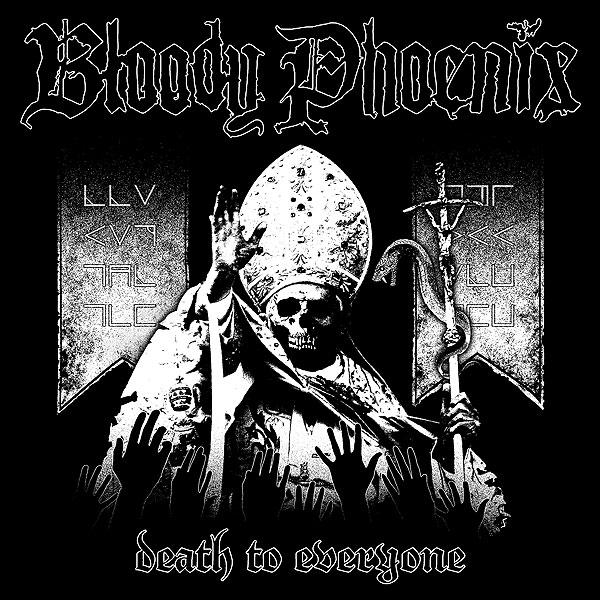 True. Old School. Grindcore. I was a big fan of Excruciating Terror back in the day and its good to see that something as rad as Bloody Phoenix came out of their demise. This record is iconic for being true to the genre and belting out sick crusty grindcore in the name of all that is unholy and resisting. Everything is sick about this record and although there are blasts, it is mainly carried out by a mid paced beat most of the time reminiscent of old school grindcore and crusty punk. There's nothing I can really say negatively about the album, true killafornia grindcore.
1.
Flesh Parade
- Dirty Sweet
Flesh Parade did not disappoint with their delayed release of Dirty Sweet, this album is phenomenal. It has everything that the band is known for, which of course include famous the high shrieks that smother the blasts and grooves of this Cajun grind spicefest. I like how the guitar isn't too loud and the vocals stand strong above everything else, that is what Flesh Parade is known for and that is what they are doing. Some words are still interpretable through all the chaos and I am glad that this album was released just as the year was about to end, a fine excuse for my procrastination of this post! I hope Flesh Parade doesn't lose their touch and keeps it up with sick records like this. Dirty Sweet is gold so pick up a copy and spread the love, I'll be spinning this until new years.
- Cody
Read more >>